In 2013 MilesKm hosted its third event just outside Utrecht, Holland.
Continuing with its desire to encourage dialogue around the themes of collaboration and collective, MilesKm decided to move away from the format it had used for the previous two years. Rather than encouraging artists from across Europe to apply to take part in a group exhibition, artists were encouraged to suggest workshops and projects that would facilitate a combination of the conversations around international collaboration and the nature of collectivism.
Nine workshops were chosen and the artists were invited to spend five days living and working together in a space provided by the group ROOD NOOT. Four additional workshops happened via video calls, when the invited artists were unable to travel due to financial and other practical constraints.
Through this format MilesKm aimed to develop and discover methodologies for shared co-production through a residency.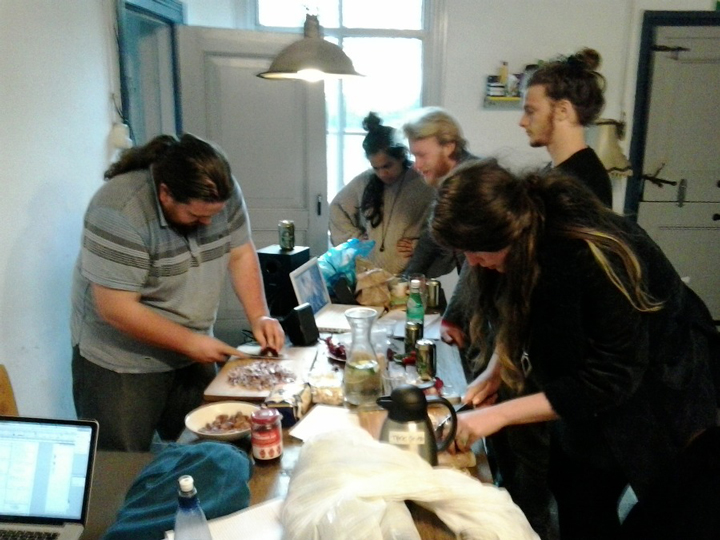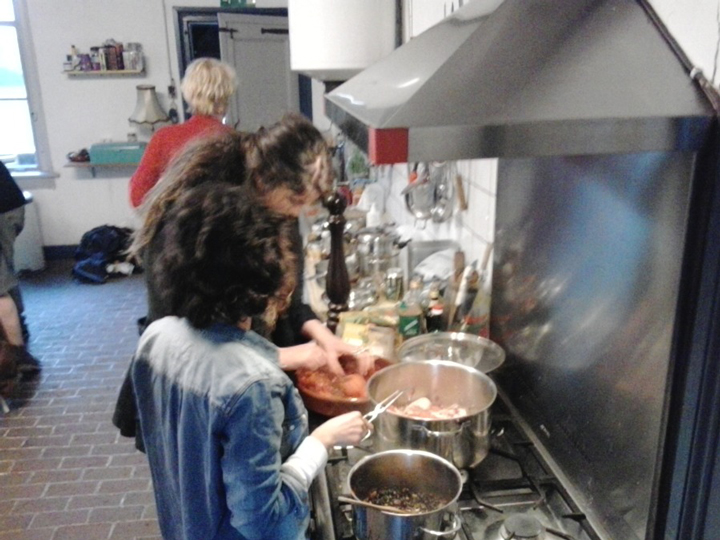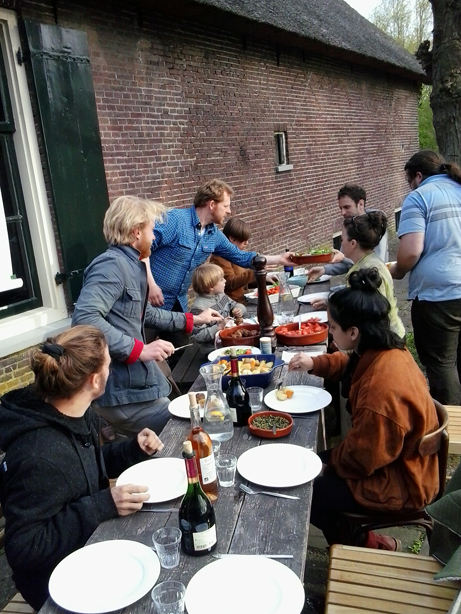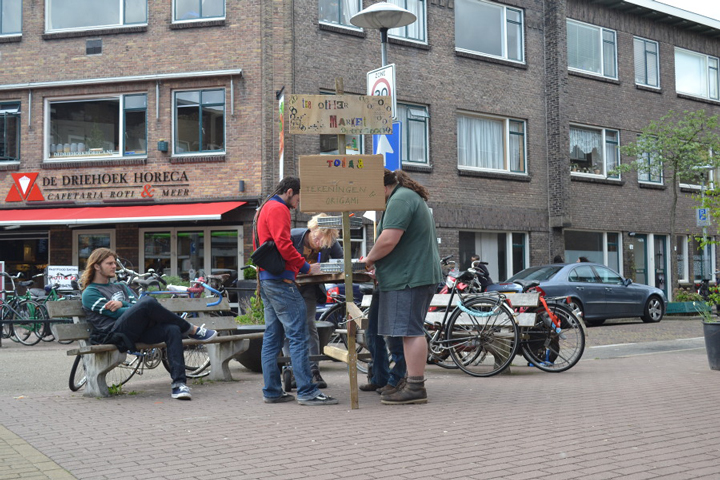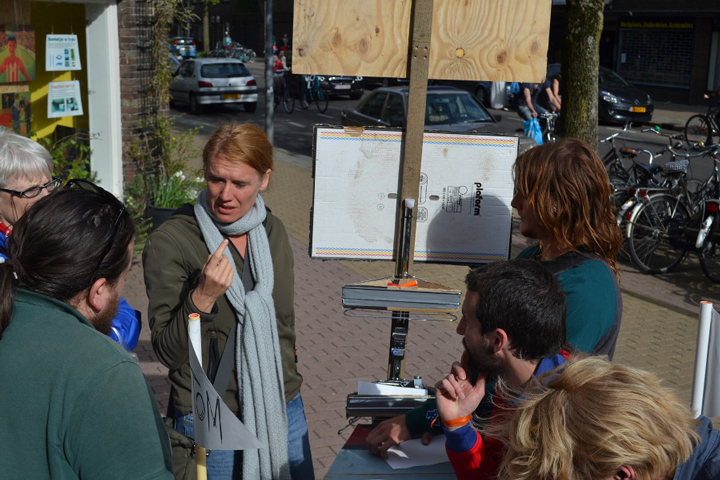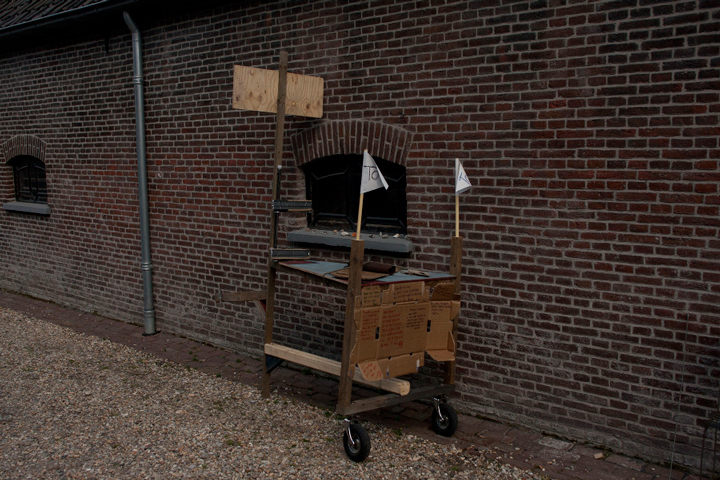 The Other Market - Pablo Calderón
The sociologist Manuel Castells, in the documentary from VPRo Time For Change, states how people accept capitalism, not because they agree with it, but because it is the only system they know. A market, one of the most inclusive spaces, seems like a perfect context to hint people with different alternatives, evident in the market itself, the products and the way these are traded. I expect this to provoke reflection.

My purpose is to engage the different participants in the challenge of making products and services WITHOUT MONEY and trading them in alternative ways in the public space, therefore considering different types of value.
Dramatize Your Housing Struggle - Anja Groten
A collaborative and interdisciplinary 5-day-long test-site.

Throughout the years the surroundings of Rood|Noot have changed from a rural area and trading path to an intersection of motorways, railways, tunnel constructions sites, water ways, and car over passes. Rood|Noot and four other historical farms have literally been cooped.
Inspired by the context of the renewal process at Leidsche Rijn I would like to invite anyone who has an interest in co-creation to think, play, experiment, and speculate together on the effects and aftermaths of an renewal process as it is happening in the Leidsche Rijn.
 
Read-in
A self-organized initiative in teaching ourselves about reading.
We started off making instant reading sessions, collectively instigated in other people's homes to consider the physicality and situatedness of any reading activity, and expanding the material, affective and political dimensions of "reading together". Initiated in 2010 in Utrecht, NL by artist Annette Krauss and theatre-maker HildeTuinstra, our Read-in practice was developed in collaboration with 'The Grand Domestic Revolution—User's Manual' (GDR)' a project initiated by Casco - Office for Art, Design and Theory. With further interests in relocating and communalising a typically private and solitary activity, Read-in investigates practices of memorizing texts collectively, the legacy of feminist reading groups, and develops approaches for private bookshelf research.

Currently members of Read-in research team include Hyunju Chung, Annette Krauss, Serena Lee, Laura Pardo, Marina Stavrou, Maiko Tanaka and Hilde Tuinstra. Recent Read-ins took place with Casco (Utrecht), Vanabbemuseum (Eindhoven), W139 (Amsterdam), Villa Romana (Florence), The Showroom (London) and Black Swan (Amsterdam).

In the context of MilesKm, Read-in invited the public to join them for a 'Read-in while walking' session. Aiming to respond to the industrial site and its "inhabitants" they met in Rood Noot to go out into Leidsche Rijn and engaged in a mobile variation of their practice. That time, they delved into the text 'Against Space: Place, Movement, Knowledge' which is part of the book Being Alive: Essays on movements, knowledge and description by Tim Ingold.

www.read-in.info
The Cultural Stereotype Summit - Will Slater
A workshop or discussion group in which all participants explore the ways that we view ourselves and others as national peoples; the significance that this has on relationships between tourists and travelers; and what elements of these stereotypes we choose to reject/embrace.

Participants were put into groups of representatives for their nationalities and engaged in sessions where they worked on lists of their country's stereotypes. This resulted in a summit where each group presented their stereotypes in the forms of lists, drawings and found objects. Through the summit, the groups decided together which stereotypes are fitting for each group.

The workshop was open to everyone interested in participating.

www.willaslater.co.uk
Wetrecht
An ongoing collaborative project, conceived by Tara Lasrado & Georgia Robenstone. We are from Australia and initiated wetrecht as a site-specific response to living and working in Utrecht, The Netherlands. Tara is currently writing her thesis on artist-run initiatives and alternative spaces & Georgia is completing her Bachelor in Fine Art (Sculpture/Conceptual Art). Wetrecht is interested in experimenting and engaging in public spaces. Wetrecht enjoys collaboration & interaction with locals and non-locals of Utrecht. As non-locals ourselves, we are attracted to the everyday.
Semantic Appropriation of Space - Miguel Ángel Rego & Alessi Pederzoli
The project was born as a collaborative artistic project where we asked ourselves about the importance of toponymy imposed by the established power and how the people could configure it as an exercise of symbolic appropriation. This exercise could be based on each one's own subjective experience, giving importance to other peripheral and alternative stories that could take part of the collective imaginary.
Our personal artistic interest tries to question the importance of toponymy and physical structure in the urban landscape. These elements configure the history of the cities where we live in.

This workshop was formed by six pairs of participants. Each group chose a square, street or park they liked in the city of Utrecht. During the Mileskm 5-day residency, each pair researched photographic archives, interviewed locals, experienced the site-specific context…
We tried to rename a place that the power framework had already connoted. At the same time, the process needed to have a solid base, as the historical treatment is delicate in itself. Therefore, is the unique way to enable a possible inherent memory of a place.

As a result of the six experiences, during the residency we produced the basis for a publication where we wrote about all processes developed by each pair, in order to have constancy of the collaborative practice made in Utrecht.

www.regoypederzoli.com

From Social Choreography - Azahara Úbera
The workshop poses an approach to dance from the investigation of movement and space, through different techniques based in contemporary dance and improvisation.

We started from the premise that our body has all the necessary information to create movement, and is a dancing body. And from that instead we studied ways to channel that information (images, sensations, experiences ..) that the body contains.

The aim was to explore movement improvisation techniques connecting our body and opening space capabilities. Work techniques used were ""Contact Improvisation"" and ""Authentic Movement"".

azahara.u.b@gmail.com
Streaming Stages - PLAYdramaturgia

It consists on exploring the possible relationship between streaming (to broadcast audio and video data in real time trough the internet) and performative arts.

The aim is to develop proposals in order to experiment with this practice. We invite practitioners to collaborate and elaborate new ideas, which are shown or rehearsed during an event hosted by different platforms; for example a virtual stage like Teatron.com, or an institutional space like MataderoMadrid or La Casa Encendida.
The Streaming Stages are programmed weekly, but we also produce other project formats: like a theorical festival, called Théa, and a workshop - Fast Draft, which is about gathering people interested in the tool. It is about developing small pieces every day during a certain period of time. Far away from big goals, we just play and think while experimenting with the new devices.
For the MilesKm 2013, we developed a Fast Draft.

For more info: http://www.tea-tron.com/playdramaturgia/blog/

Travel around the Hob - Nora silva
An initiative by Nora Silva who is an artist from Madrid, Spain, co-founder and organizer of MilesKm. She is currently traveling around the world as part of this project about trips and food.

During MilesKm, we will cook a recipe following Nora's directions and have dinner together through skype!
We will be cooking a Mexican recipe, Mole Poblano, as that's where Nora is at the moment. Obviously there will be ingredients impossible to find in Holland, but that's the challenge or the reflection. Are recipes really transferable from one country to another? How can we have a global food culture and keep it sustainable?

RECIPE: MOLE POBLANO
 
INGREDIENTS